Grab Your Cup for Coffee Tastings!
Join Slow Food for Slow Taste events at Stringbean Coffee's new roasting facility in the Hanley Industrial Court.
Coffee Class -Part 1: Bean to Brew
Learn about coffee beans, coffee roasting, and coffee brewing science.
Participants take home 12 oz. of coffee!
Saturday, December 3rd, at 10 a.m.
Stringbean Coffee Roasting Facility
858 Hanley Industrial Ct.
Brentwood, MO 63144 (South of I-64)
Space is limited. Get your tickets now!
Tickets are available
here
Coffee Class- Part 2: Methods & Makers

Try coffee brewed three different ways; compare and contrast methods.
Tasting and samples included. Participants take home 12 oz. of coffee!
Saturday, January 14th, at 10 a.m.
Stringbean Coffee Roasting Facility
858 Hanley Industrial Ct.
Brentwood, MO 63144 (South of I-64)
 All Local, Meet the Farmer, Convivium Pancake Breakfast
Saturday, November 12th, 2016
Masonic Lodge, 12 East Lockwood Avenue, Webster Groves, MO 63119
Get tickets now at: http://tinyurl.com/pancakesfstl
Join Slow Food St. Louis for a Convivium Pancake Breakfast featuring all local ingredients and the farmers and artisans that brought them to your plate.
You'll enjoy a Slow Food meal of pancakes, sausage, and all the fixings, plus eggs and grits that will change the way you think about this southern breakfast staple. Savor each bite as you learn about the growing, processing and production of the ingredients. Then, stick around for the Cookbook Swap & Sale.
Invite your friends and neighbors and help us all show our gratitude for the people who grow delicious food in our region.
Guest Producers Include:
Margot McMille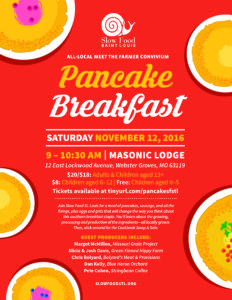 n of the Missouri Grain Project;
Alicia & Josh Davis from Green Finned Hippy Farm;
Chris Bolyard from Bolyard's Meat & Provisions;
Dan Kelly from Blue Heron Orchard.
Pete Cohen from Stringbean Coffee.
Tickets are on sale now!
_________________________________________________________________________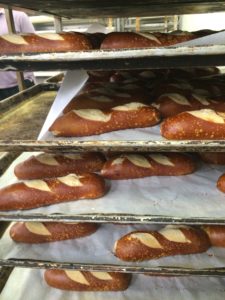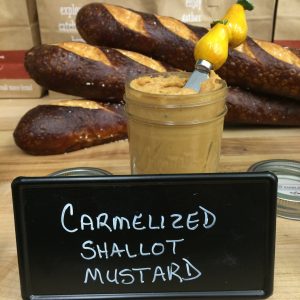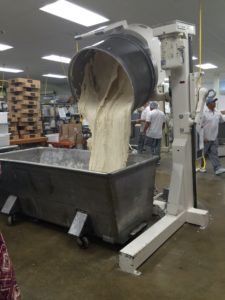 See September's Pretzel & Mustard Tasting Highlights here.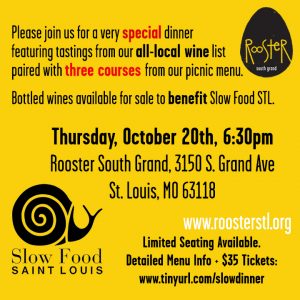 Local Wine & Dine with Slow Food
Thursday, Oct. 20th, 6:30 p.m.
Join us for a 3-course wine pairing dinner, served family-style, featuring local wines paired with delicious dishes from our dinner menu.
Course 1: Microfarm Flatbread topped with roasted potatoes & Emmenthaler, and Arugula & Leeks from Baileys' Microfarm.
Course 2: Fried Chicken & Linguini w/ vegetarian "Meatballs," Baked Mac-n-Cheese and Green Bean Salad
Course 3: Peach, Apple, & Pumpkin Pies
Bottled wine will be available for sale with proceeds going directly to Slow Food St. Louis. Limited Seating. Please purchase tickets in advance.
Only $35 per person. Get Your Tickets Here.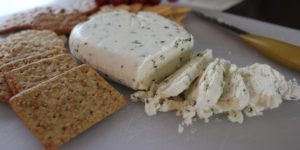 Slow Taste: Cheese Making & Tasting
Tuesday, Oct. 25th, 7 p.m.
Did you know you can easily make great cheese at home from whole milk? Larder & Cupboard partners with Slow Food St. Louis to show you how incredibly simple it is to turn milk — in this case, whole organic milk from a local farm — into delicious and healthy cheese.
Join Steve McGehee from Slow Food St. Louis as he leads an evening of Cheese making. Learn how to make Farmer's Cheese in less than an hour using only three ingredients. Using one gallon of milk from Rolling Lawns Farm (that Larder & Cupboard carries) will yield one pound of Farmer's Cheese. There will be a variety of herb cheeses made the same way to sample. This Slow Food tasting will last approximately an hour and participants will go home with the recipe to make their very own cheese!
Steve McGehee is a St. Louis native who spent 30 years traveling around the world studying birds. He returned 4 years ago to take care of his parents. He has spent the last 4 years testing milks from Missouri and Illinois and decided that Rolling Lawns Farm milk makes the best Farmer's Cheese. He is on the Board of Directors of Slow Food St. Louis and The Center for the Study of Tropical Birds. He has eaten homemade cheese in 10 different countries.
30% of the proceeds from ticket sales will go directly to Slow Food St. Louis. Seating is limited, so purchasing your ticket early is strongly recommended.
Only $15 per person. Get your tickets here.
Stay Tuned!! 
Next Month in November – Coffee Tastings & More Missouri Wines!
Get ready to support your local growers during the holiday celebration season by choosing your favorites (and theirs)!