Slow Food St. Louis is pleased to announce the 2017 Convivial Pursuit – our monthly meet-up of members and friends featuring a selection of educational events and the occasional film that will whet your appetite for local, sustainable food, and will bring out the activist in you as well.
Convivial Pursuit will be held on the second Tuesday of the month April-November at 7:00pm. at Rooster on South Grand- 3150 S. Grand Blvd. St. Louis, MO. The cost is a suggested donation of $5. Proceeds benefit Slow Food St. Louis' Small Farm Biodiversity Microgrant Program, which has given more than $67,000 to local farmers over the past seven seasons.
October
Learn to Make Local Cordials with author Charles Schwend
Tuesday, October 10th, 7pm – 9pm at Rooster on South Grand
(3150 S. Grand, St. Louis, MO, Just south of Arsenal)
Doors open at 6:00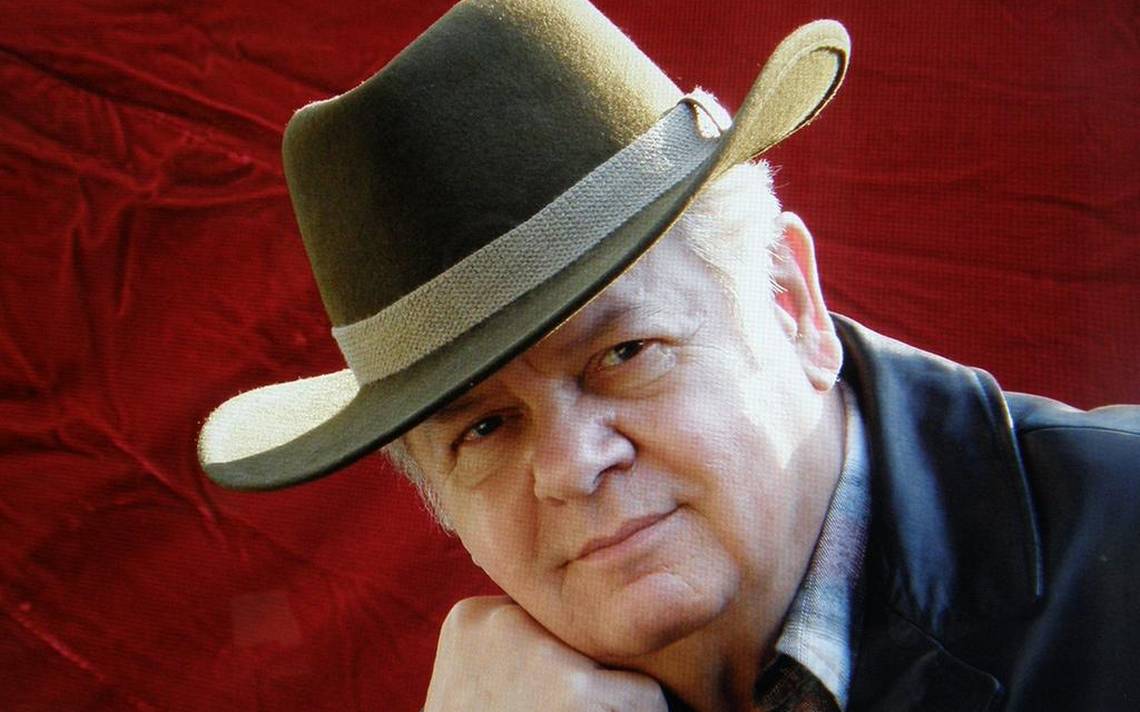 Join Slow Food and local author Charles Schwend for a conversation about cordials! Learn how to make them, package them, and share with friends. Try a taste of his homemade Mint Cordial. Hear about his upcoming book "Homemade Wines & Cordials Better Than Bought" and take home some tried-and-true recipes for flavorful and potent homemade cordials. Early arrivals can order from Rooster's delicious dinner menu and eat during the presentation, but there is no requirement to purchase anything. This event is free, but donations are always welcome
September
Real Food As Medicine with Angela Lamb and Amanda LaPlante
Tuesday, September 12th, 7 p.m. at Rooster on South Grand
(3150 S. Grand, St. Louis, MO, Just south of Arsenal)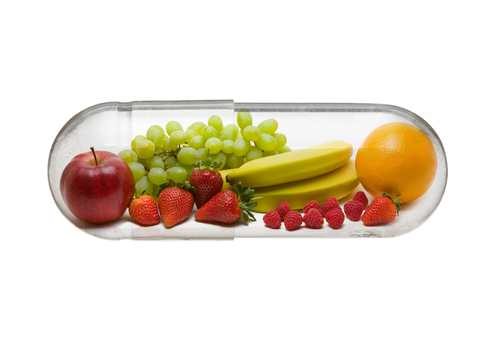 Amanda LaPlante MA, INHC struggled with multiple autoimmune diseases for two
decades, but after discovering alternative medical approaches and realizing the power of nutrition, Amanda dropped over a dozen medications, lost 46 pounds and regained her health. Now she is a certified Integrative Nutrition Health Coach on a mission to spread the word about using food as medicine and taking a holistic approach to healing chronic conditions and preventing disease.
Angela Lamb is a health advocate, health coach, healthy living children's book author and health documentary filmmaker of "Un-Inflame Me: Reversing the American Diet & Lifestyle". She will share how the Standard American Diet adversely affected her life at first as an obese child and later as a 40-year-old adult who developed a potentially life-threatening autoimmune disorder. She received a 2nd chance at life and was able to reverse her chronic health condition for the better by eating real food from nature, regular exercise, root cause medicine which she will discuss in detail, and reducing chronic inflammation which she will discuss in detail as well. As someone who received a second chance at life, she is hoping her education and collection of expert's interviews in the documentary film will help others do the same.
August
Foraging In The Wilds Of Missouri A talk with Rob Connoley and Bo Brown
Tuesday, August 8th, 7 p.m. at Rooster on South Grand
(3150 S. Grand, St. Louis, MO, Just south of Arsenal)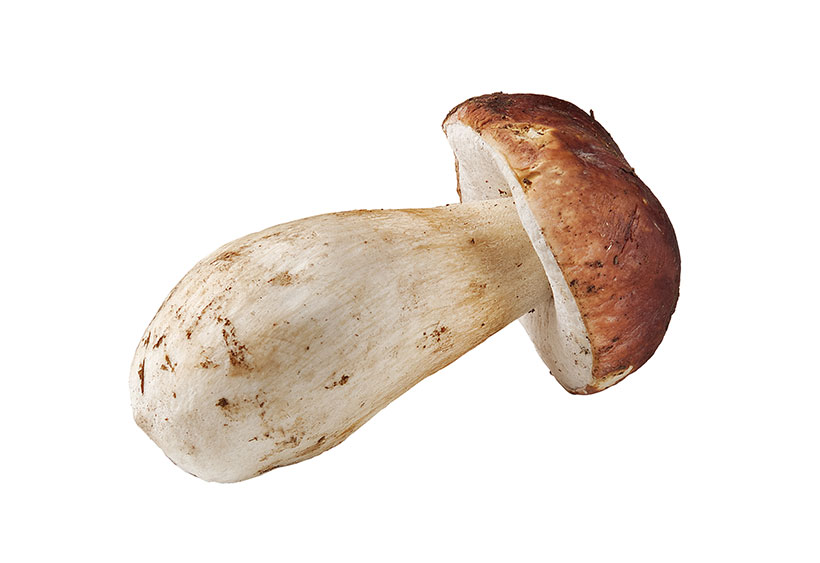 Join Slow Food St. Louis as we welcome Rob Connoley and Bo Brown who will discuss the many wild edible plants of Missouri.
Rob will speak on: "Overlooked forage – How many forageable plants do you know?" Are you limited to purslane or do you venture out to the hundreds of leaves, berries, stems, and fungus in our surrounding area? One, in particular, has drawn my attention – the wood ear mushroom. Generally relegated to obscure Asian dishes, this common, easy-to-identify fungus can be made into all sorts of delicious treats at home. In this presentation, I'll walk you through the steps starting at finding a wood ear, recipe development, and the final dish.
Rob Connoley is the chef and owner of Bulrush STL, a foraged food restaurant slated for opening in early 2018. A James Beard semi-finalist chef and the subject of a recent Feast TV episode ("Testing, Testing"), Rob forages the greater St. Louis area to fill his restaurant's larder. His first cookbook, "Acorns & Cattails: A Modern Foraged Cookbook of Forest, Farm & Field" was released last fall.
Bo will speak on: "Wild Food vs. Industrial Food – The Health Benefits of Wild Foods in your Daily Diet". He will look at the recent research into the high content of anthocyanins, phytonutrients, and other cancer-fighting, immune-building substances in wild plants, and the ease of incorporating them and other wild foods into the daily diet. There will also be a Powerpoint Presentation on some of the most common edibles.
Bo Brown is Founder and Director of First Earth Wilderness School and has worked as a wildlife biologist and naturalist since 1985. Bo presents stone-age wilderness skills/foraging/nature programs for schools, museums, and nature centers around the country, instructs at large western skills gatherings such as Rabbitstick and Wintercount, and assists John Prairiewolf McPherson with 2-week training courses for Army Special Forces SERE survival instructors. He is still active in avian field research, and as a professional musician performs regionally and nationally with several groups.
July
Seed: The Untold Story
Tuesday, July 11th, 7 p.m. at Rooster on South Grand
(3150 S. Grand, St. Louis, MO, Just south of Arsenal)

We will be showing the award-winning documentary "Seed: the Untold Story".
Few things on Earth are as miraculous and vital as seeds, worshipped and treasured since the dawn of humankind. Yet, in the last century, 94% of our seed varieties have disappeared.
SEED: The Untold Story follows passionate seed keepers protecting our 12,000-year-old food legacy. As biotech chemical companies control the majority of our seeds, farmers, scientists, lawyers, and indigenous seed keepers fight a David and Goliath battle to defend the future of our food. In a harrowing and heartening story, these heroes rekindle a lost connection to our most treasured resource and revive a culture connected to seeds.
SEED features Vandana Shiva, Dr. Jane Goodall, Andrew Kimbrell, Winona Laduke and Raj Patel.
The film will be introduced by Angela and Marc Adler of Seed Geeks, St. Louis's source for heirloom seeds. Afterward, they will lead a discussion on the importance of working to preserve the world's seed diversity.
June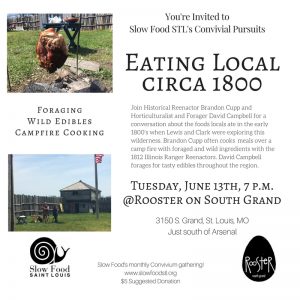 Eating Local Circa 1800
Tuesday, June 13th, 7 p.m. at Rooster on South Grand
3150 S. Grand, St. Louis, MO, Just south of Arsenal
Join Historical Reenactor Brandon Cupp and Horticulturalist and Forager David Campbell for a conversation about the foods locals ate in the early 1800's when Lewis and Clark were exploring this wilderness. Brandon Cupp often cooks meals over a campfire with foraged and wild ingredients with the 1812 Illinois Ranger Reenactors. David Campbell forages for tasty edibles throughout the region. Come learn their secrets for eating well without grocery stores.

MAY
The Sustainable Backyard Tour Preview
Tuesday, May 9th, 7 p.m. at Rooster on South Grand
3150 S. Grand, St. Louis, MO, Just south of Arsenal
At the crossroads of food, health, and community, The Sustainable Backyard Tour celebrates the beauty of partnering with Nature.
Each year in June for the past seven years, yards throughout the St. Louis region have opened their gates to demonstrate a range of green living practices, from low-impact lawn care, composting and organic gardening to the use of renewable energy.
Join Founder Terry Winkelmann and two exemplary hosts, beekeeper Scott Klein and urban homesteader Dmitri Kabargin, for a rousing conversation about how our backyards fit into the bigger picture. Pick up some ideas for eco-fitting your yard and learn how making more sustainable choices can help grow a healthier world.

APRIL
Greg Kiger: A Cancer Survivor's Guide to Eating
Tuesday, April 11th @7 p.m. at Rooster on South Grand
3150 S. Grand, St. Louis, MO, Just south of Arsenal
Join Slow Food St. Louis at our inaugural 2017 monthly Convivium gathering at Rooster restaurant on South Grand. This month's program, "A Cancer Survivor's Guide to Eating" features Greg Kiger, a film-maker, documentarian, food revolutionary, and cancer survivor. His mission these days is to help everyone learn what he learned the hard way – what to eat to foster health and reduce suffering.
Come hear his inspiring message about what to eat and catch a preview at his website:
http://www.what2eat.tv/#mission
Then, author, grower, and natural living philosopher Crystal Stevens will briefly share where to get your good food prescription filled in our region.